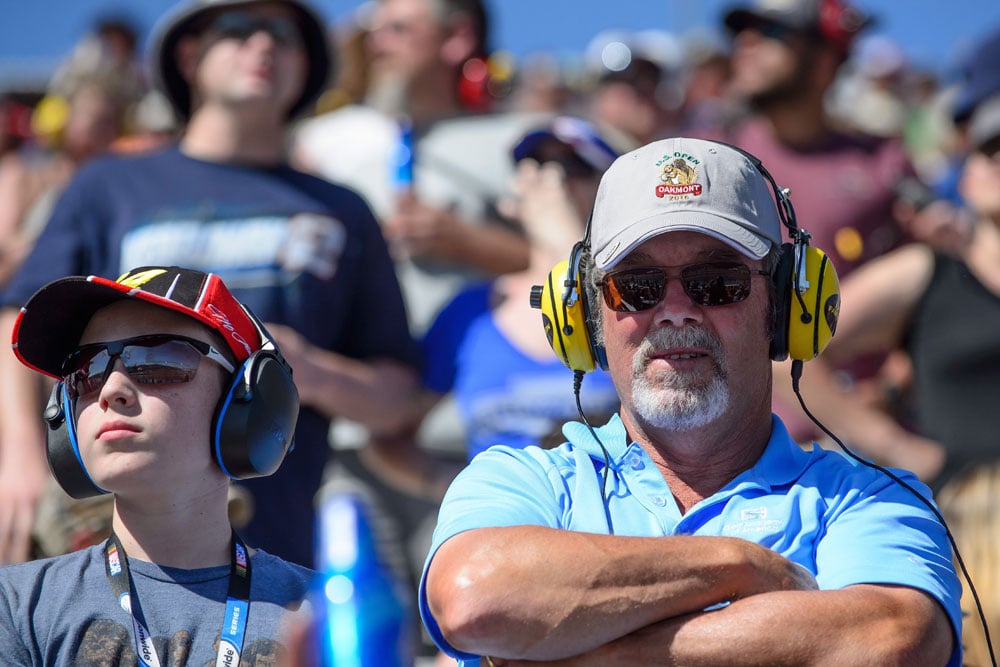 The FORTUNE 500 is one of the most prestigious lists in corporate America. Companies on this list are held to a high level of transparency and accountability to current and potential stakeholders, resulting in objective decision-making that is constantly "under the microscope" of Wall Street investors.
With this background, nearly one in four companies on the prestigious list currently invest in NASCAR to build its brand – brands like Mobil 1 (ExxonMobil), GEICO (Berkshire Hathaway), Xfinity (Comcast), and Coca-Cola, to name a few. Additionally, powerhouse international and privately held corporations involved in NASCAR include Mars, Shell, and Toyota.
This raises an interesting question: what do companies that are under such pressure to perform know about NASCAR that leads them to invest in the sport?
Independent research provides insight into what may be informing their decision. Consider the following:
The NASCAR audience is massive, national, and becoming increasingly diverse
According to Nielsen Scarborough, tens of millions of consumers across the country follow NASCAR. Los Angeles, New York, Chicago, Atlanta, Dallas, Philadelphia, and Washington DC each have approximately one million or more NASCAR fans (those who are at least a little bit interested in the sport). While several markets in the South region of the U.S. (the roots of the sport) have a higher-than-average concentration of NASCAR fans, the data clearly shows there are more NASCAR fans outside the South. The same independent research shows that the NASCAR audience is becoming more diverse, as the proportion of the NASCAR fan base that is multicultural has steadily increased from 20% in 2011 to 25% in 2019.
The NASCAR audience is highly engaged.
When it comes to linear television viewership, despite the recent challenges this media channel has faced by the growth of other entertainment options, NASCAR continues to be a leader among major sports. In fact, with the exception of the NFL, in terms of average number of viewers tuned in per minute across the entire regular season, NASCAR is the #1 or #2 sport on TV more times throughout the year than any other major sports property. Furthermore, NASCAR continues to be a leader among major sports on television when it comes to average number of females tuned in per minute (#2) and younger audiences 2-17 (#2) and 18-49 (#2) tuned in per minute, as well as the average amount of event viewed (#1) and watching with others (#2).
Additionally, NASCAR digital platforms (website and mobile app) attract an average of 4 million unique visitors per month, according to data collected by comScore Media Metrix. NASCAR also has approximately 10 million followers on traditional social media platforms (i.e. Facebook, Twitter, Instagram, and YouTube).
The live experience is also a key strength of the sport. NASCAR races continue to attract tens of thousands of attendees despite recent challenges facing many sports properties. It is noteworthy that multiple NASCAR races have sold out in 2019, including the Daytona 500 which had its fourth consecutive sell-out crowd.
The NASCAR audience is #1 in fan loyalty to sponsor brands.
While the size of the audience matters, so too does the quality of the audience (an indicator of efficiency in reaching a responsive group of consumers). For a NASCAR fan, it's not just about wearing the team colors; it's about wearing the sponsor brands (just think about all the shirts, hats, jackets, etc. with sponsor brands that NASCAR fans wear to show their support) and buying sponsor products and services.
Extensive research on the NASCAR brand shows that those who follow the sport do so for the "thrilling and exciting entertainment" and for the "sense of belonging" that makes NASCAR Nation so unique. NASCAR fans feel part of something bigger than themselves, and they support those who make their sport go (i.e. the sponsors).
A 2019 study conducted by independent sponsorship measurement company Turnkey Intelligence shows NASCAR is #1 among U.S. major sports in fan loyalty to sponsor brands (a finding that has held true every year since the study was first conducted in 2007). This loyalty of fans to sponsor brands has become an enduring truth and is clearly the #1 competitive advantage of NASCAR.
Additionally, a 2017 study (also conducted by Turnkey Intelligence) among sports industry executives shows that NASCAR ranks #1 when it comes to doing the best job of developing brand engagement opportunities for sponsors. With all the ways sponsors can embed themselves in the sport and be authentic, the 10-month NASCAR racing season offers a nearly "always on" opportunity for brands to leverage a sustained marketing platform.
It's no surprise, then, why so many of the most admired companies have invested in NASCAR and continue to do so. The sport enables them to reach millions of consumers known for supporting sponsor brands. Simply put, NASCAR works.