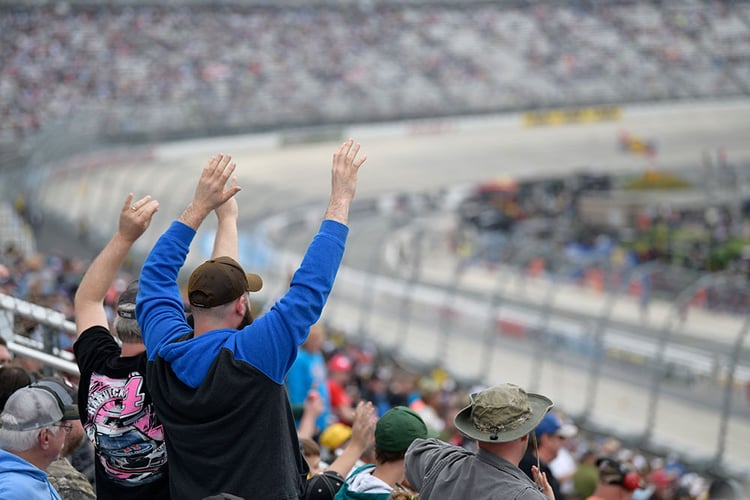 It has often been said that the competition for sponsorship dollars is more competitive than the actual racing itself. The racing industry is not special, in that respect. The modern business marketplace is more competitive than ever - across all sectors.
One way for innovative companies to differentiate themselves from their competitors is an investment in sports sponsorship. When weighing the alternatives available, it's important to always link business objectives (in most cases, sales and marketing outcomes) against the sponsorship features.
A NASCAR race team sponsorship offers a wide array of potential sponsorship features, of which we've outlined the top 10 below.
1. Celebrity Driver as a Spokesperson
There's arguably no better way to raise the image, or profile, of your company than capitalizing on a celebrity spokesperson. Smart companies are using influencers to enhance their image and shape the attitudes of their customers. Drivers have a huge appeal among NASCAR fans and the most popular drivers have many years of experience serving as a spokesperson for various brands.
2. National Reach
The myth of NASCAR being a "southern" sport is just flat out wrong. As the sport has grown over the years, it has spread out from its southern roots to reach a national audience. NASCAR's top series now runs events all over the country. Where previously, drivers and fans alike traditionally hailed from southern states, today, 3 out of 5 NASCAR fans live in a region outside of the South, and their geographic distribution mirrors that of the U.S. population (Source: Nielsen Scarborough).
Did you Know? The top five markets that NASCAR visits each year are: New York, Philadelphia, Atlanta, Dallas and Los Angeles.
3. National Reach Complimented by Local Focus
NASCAR team sponsorship is unlike any other professional team sponsorship in that the assets and rights to the team can be used across the entire country and not just in the specific city the team plays in. However, those same assets can be focused on specific, strategic markets, or regions, throughout the season. The Monster Energy NASCAR Cup Series travels to over 20 markets each year, covering each region multiple times in the course of one year.
4. Full-year Marketing Platform
NASCAR truly offers a year-round marketing activation program to speak to its fan base. The Monster Energy NASCAR Cup Series season starts in February and ends in November which is the longest season of the major US sports.
5. Attractive Demographics
The modern day NASCAR fan is much more diverse than you may expect, with females, millenials and minorities tuning in with increased regularity.
NASCAR ranks #1 among major league sports in proportion of females viewing on TV (36%) and visiting the league site (44%). Female interest in the sport is also on the rise. Among new NASCAR fans (3 years or less), 58% are female (Source: Nielsen Co. and comScore). Outside of the NFL, NASCAR delivers more than three times more females per event than all other major US sports.
Millenials are also watching, as the Monster Energy NASCAR Cup Series ranks #1 in terms of % of event viewed among millennial viewers 18-34, ahead of even the NFL.
And, finally the proportion of NASCAR fans who are multicultural has increased from 20% to 24% in the past 5 years. Among new fans (3 years or less), 39% are multicultural (with 22% of them being Hispanic). (Nielsen Scarborough).
6. Fan Engagement
On average, NASCAR fans consume nearly 10 hours per week of NASCAR-themed content across all media channels. The official website of NASCAR (NASCAR.com) is ranked the #1 site for digital consumption (pages viewed per visit) among all major U. S. sport leagues. Further, fans are engaging with the brand on social media platforms where 65% of the NASCAR audience is between 13-34 years old.
7. Television Coverage
NASCAR TV viewership is still strong. Every week, NASCAR is the #1 or #2 sport watched on TV with over 4 million people watching weekly and more than 58 million unique viewers each year.
8. B2B Connections
NASCAR provides a target rich environment for business-to-business relationships. The sport has more Fortune 500 companies participating as sponsors than any other U.S. sports league and all teams make it a point to facilitate introductions inside the garage.
9. Brand Loyalty
NASCAR fans are the most brand loyal in all of the major U. S. sports. 86% of NASCAR fans agree that NASCAR drivers couldn't run their car without sponsors, and 81% of NASCAR fans agree with the statement "I appreciate what a sponsor provides to the NASCAR experience"
10. Behind-the-Scenes Access
NASCAR teams can offer access like no other. Sponsors and guests are provided behind-the-scenes and access to the garage and pit stops, which is similar to being on the sidelines and locker room before, during and after a NFL game.
This list is definitely not all-inclusive, but is meant to give you an overall idea of what is possible with a race team sponsorship. Different companies will obviously have different goals when it comes to leveraging a sports sponsorship. We'd love to chat with you about your goals, and how a NASCAR race team sponsorship can help you achieve them.