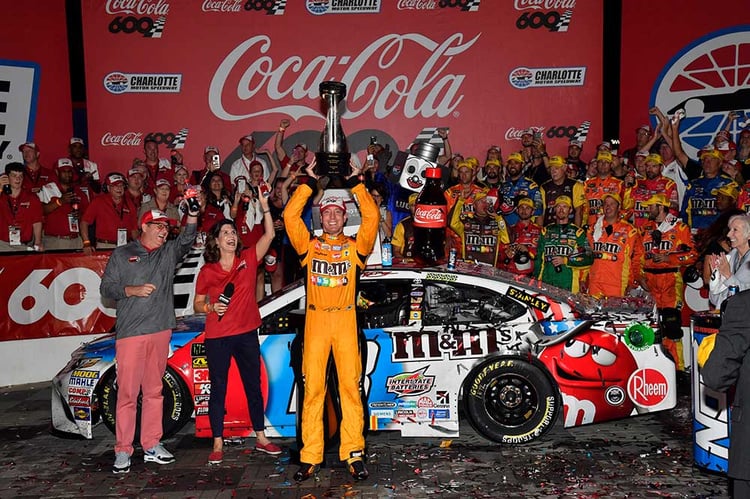 Does winning matter? Most executives will have an opinion based on their professional experience. In this blog post we will answer questions like "Do sponsors of winning teams see a lift in product sales or recognition?" and "Does a sponsor have to win on the track in order to consider their sponsorship a success?". As with most things in business, there are few absolutes, and this is no exception. The answer to these questions, and ones like them, is "it depends".
Our primary goal here is to help illustrate why there isn't a single, or simple, answer to these questions. To do this, we will refer back to previous blog posts that highlight key sponsorship concepts as we continue to better understand, together, the broader picture of the NASCAR sponsorship landscape.
Win on Sunday, Sell on Monday
If you have followed NASCAR for a while, you are probably familiar with the old adage of "Win on Sunday, Sell on Monday". This originated, of course, with the auto manufacturers. When their brand of cars went to victory lane on Sunday, those showrooms were more popular places on Monday, giving their salesforce a better chance at selling cars.
Eventually, a push for safer race cars to protect the driver led NASCAR to a more uniform style of race car with subtle manufacturer characteristics – the Car of Tomorrow. Recently, the cars have been moving back towards a more similar version of the showroom car. The sport has (again) recognized this as a way to help fans make the emotional connections that drive sponsor affinity and loyalty. Auto manufacturers are happy about this as the fans can more easily see the resemblance at the race track to the cars they see in their local towns. This allows for the race car driver in all of us to live out a bit of our dream.
How Do You Measure Success?
Companies that invest in sports sponsorship must have a plan in place prior to the first activation day to measure their objectives and investment. How can you possibly know if winning has an impact on your sponsorship, if you haven't carefully thought about what success means for your business, and how that translates into very specific outcomes (i.e. metrics, KPIs, etc).
This goes back to our previous blog post on measuring sponsorship impact, where Allyson did a great job laying out how to put the right tools in place to measure. This data provides critical insight into whether a brand's spend is impacting sales or awareness. From there, it should be a straightforward exercise to analyze success relative to performance on track.
A Must Win Situation?
When a sponsor is associated with a team, does that team need success (wins) in order for the sponsor to be successful? The blanket answer is, no. Depending on the type of activation around the sponsorship, the program can be set up to be independent of the team's performance. We don't have to look far to find compelling examples of this model at work.
In 2018 at LFR, while we didn't see victory lane during the season (although we did get close a few times), our partners were victorious in their sponsorship endeavors, achieving great success overall. The Partner Perspective features on our blog highlight how both Procore and Dumont drove measurable impact for both of their businesses – independent of the results on the track.
There are, of course, times when a sponsorship is tied directly to performance (i.e. competitive aspects of the sport), which brings added attention to the brand. Such a case is one of my son's favorite promotions with Taco Bell and The World Series. Taco Bell runs a promotion that directly ties the performance of the teams to the activation of their sponsorship. Every time a player steals a base during The World Series, Taco Bell will provide free tacos for a particular day for each stolen base to fans through their "Steal A Base, Steal A Taco" promotion. This drives interest in the game, particularly when runners are on base. This is an example of a sponsorship being tied to the performance of the game.
In general, it is fair to say that better performance on track generates more opportunities and opens more doors for potential sponsorship business. Teams that experience success garner more attention during broadcasts and post event, which, in turn, can provide more value to sponsors in terms of media exposure.
On the other hand, there are several sponsors involved in sports that don't measure the success of their sponsorship based purely on media exposure. While this may be critically important for consumer brands, it is less so for B2B businesses. They are more concerned with the access they are granted through the relationship with the team. For those companies that have a focus on B2B opportunities, the access to potential customers far outweighs any level of media exposure value.
The Only Definition of Success That Matters
Again, the overall objectives of each sponsor will determine how success is measured. Each company is unique and will have their own set of metrics to consider. I am always interested in learning why companies get involved with various sponsorships – inevitably each has their own reasons, and desired outcomes.
If you are considering a NASCAR sponsorship, I encourage you to examine your objectives and determine how you will define the success of the engagement for your business. You should then be able to determine if on-track performance will have an impact on your success metrics. Armed with this information, you will be better equipped to navigate the sponsor-selection process, ultimately identifying the right partner to help drive your business forward.