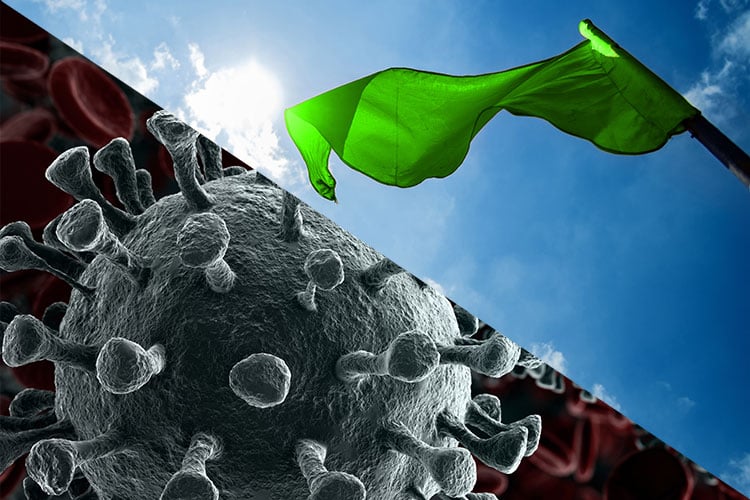 While life in general has been rather odd over the last 45 days - as COVID-19 has become a household term - the void left by the absence of live sports has been felt deeply. Whether it's the NBA Playoffs, The Master's, or the beginning of the MLB season, sports fans everywhere in the United States have been learning to do without.
As local governments begin the work of developing and implementing phased-in reopening plans, it is inevitable that there would be talk and speculation about how and when live sports will resume. Leagues are working on their plans for starting back up, but all of this remains in flux and depends on the spread (or not) of COVID-19. Recently, we recorded a podcast to talk about the New Normal of NASCAR and thought it made sense to take another look at the current landscape for live sports and how the global pandemic has, and will, impact NASCAR.
What We Know
At the time of this writing, NASCAR is less than one week away from returning to the track. Our sport has missed eight races thus far, and NASCAR has scheduled four races to take place in eleven days to try and make up for some of the missed races. The first two races will be at Darlington Raceway (5/17 & 5/20), while the second two races will be run at Charlotte Motor Speedway (5/24 & 5/27).
The thinking behind holding these races that were not on the original schedule (with the exception of 5/24 – from the original schedule), is to allow the teams to drive to events located close to the Charlotte, NC area – where most industry members reside. This avoids travel in close proximity on airplanes and staying in hotels. These first four races will be one-day events, versus a traditional 2-3 day weekend event and be run with no fans in the grandstands as well as limited team personnel in the infield. All of this is meant to try and limit exposure, overall, for those putting on the show at track.
Thankfully, the next four races will be broadcast on live television for viewers at home to enjoy. However, there are many trade-offs to restarting the season and holding events in this manner. Without fans being able to attend the races at the track, there will be far reduced staffing at facilities and minimal positive economic impact in the region as compared to races in the past. Further, in order to hold an event such as a NASCAR race, specific safety measures must be in place. For this, NASCAR has developed a lengthy policies and procedures notebook to guide teams and participants on the best practices and policies that will be in place for these first four events. For example, team members will be checked for any symptoms before entering into the facility, team haulers and pit boxes will be spaced out throughout the infield, social distancing will be in effect, and masks will be worn. These policies and precautions will be in place to minimize the possibility of infection or spreading of COVID-19.
The Immediate Impact
For sponsors of teams, it means no entertaining of guests, which is a significant change. As we have written about many times before, sponsors are provided with exclusive access to the NASCAR garage. This allows guests to mingle and meet other corporate partners throughout the sport, feel like an insider, and walk away from the event as a lifelong fan. For the immediate future, guests will not be invited to the track to experience the Driver's Meeting or Pre-Race walk down pit road or watching the race from the team pit box overlooking pit-stops up close and personal. This impacts the team and sponsor relationship significantly, and we are all thinking of ways to potentially replicate this experience in a virtual way, or develop alternate ways of delivering similar value to sponsors and their contacts/guests.
For fans or ticket holders to a canceled event, race tracks are working with ticket holders, as are many campgrounds for the groups that stay on property or close by on race weekends to make good on their purchases. NASCAR fans will be able to watch races in the comfort of their own homes. In fact, the television ratings for the first four races should be very positive as there will be very little competition from other sports around the country.
Teams are reacting and working quickly to prepare race cars for events that didn't exist a few weeks ago. Some race shops, like LFR, are running on a smaller crew to prepare for these races. In our case, we only have our shop team working to prepare the race cars, while our engineers and road pit crew stay at home and continue to remain healthy and safe as they will be the ones going to the race track soon.
The sponsorship departments at race teams are diligently working with sponsors to stay engaged, be empathetic, and try to understand their business during this time. It's important to know whether that sponsor has been able to continue operating as usual or has had to shut down a plant or lay-off workers. As the leader of this department at LFR, I have communicated to our team to stay in close contact with our partners and prospects, remain sensitive to their world (personally and professionally), keep them informed of any new communication as it comes out, and always think about the future.
What's to Come?
The sport of NASCAR – like all other major sports – is changing right before our eyes. I don't think I'm alone in my belief that we will see a different kind of race experience going forward. In the immediate future, we know these first four races will feel odd, but what changes will stay in place? What changes will come from the learnings we take away from these first events? These are the questions with which every team, sponsor, track, and league are grappling.
As many of us have seen in our experiences working from home, digital technology has exploded. Platforms like Zoom, streaming services like Netflix and gaming technology have already changed the way we communicate, consume media and engage with others. How will technologies like these carry over into sports? What does this mean for sponsorships and engagement? As we evolve into this new era, sports will have to pivot and experiment with new ways to interact with their fan bases and corporate partners.
My hope and expectation is that these next few weeks will be positive for all of those involved with NASCAR. As an industry, we are getting back to work, and we look forward to putting on a good show for the fans. These next few races will be a great tonic for all of those looking for some semblance of normalcy in our lives. But there is a long way to go in terms of understanding the impact of this pandemic on the sport over the longer term and what NASCAR will look like weeks, months, and years into the future.