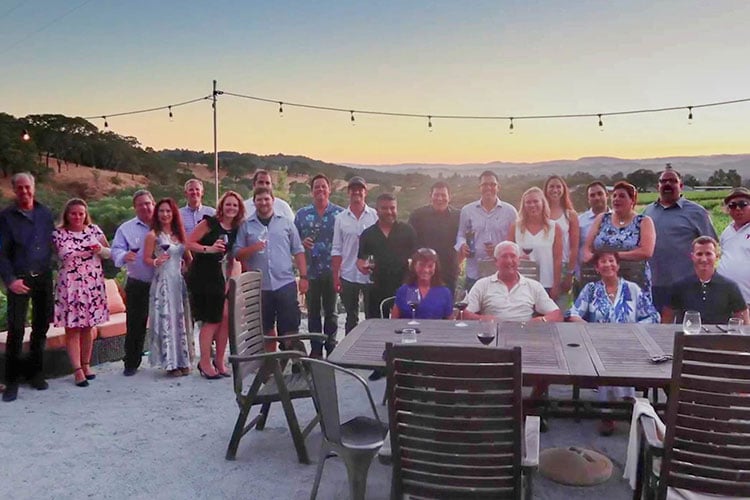 We are in our second year of partnering with Leavine Family Racing (LFR) and the No. 95 in the Monster Energy NASCAR Cup Series. This partnership started with a conversation to sponsor LFR's TechCon Summit in 2017, an event where LFR brought together companies from within the construction industry and highlighted the use of technology in the industry and showcased best practices. The TechCon sponsorship led to a one-race sponsorship deal in 2017, and has since grown into a larger partnership in 2018. To be honest, we are just scratching the surface of where this program can go.
Why A NASCAR Partnership, Specifically with LFR, Makes Sense
Procore is the world's leading provider of construction management software and we entered the sport of NASCAR because of the target rich environment of fans who work within the construction industry. You can't set foot onto a construction site without seeing a NASCAR decal on the pick-up trucks. In fact, NASCAR fans are over 60% more likely than non-fans to have a building & ground maintenance / construction occupation.
Our goal for the racing program is to generate business, through both new customers and current customers. This season we have been the primary sponsor for a number of races where we have hosted construction companies on race weekends. Each of these weekends, our guests have been able to get up close and personal with the sport through meet and greets with Kasey Kahne, access to the NASCAR driver and crew chief meetings and watching the race from atop the LFR pit box. Our guests have provided overwhelmingly positive feedback. For example:
"I can't thank you enough for the great time at the Daytona 500! Your e-mail to me said it would be an unforgettable experience – and you were right! I had no idea how awesome of an experience it would be. Thank you! You and the rest of the team at Procore are great partners and I am proud to tell everyone what a great company you have!"

– Mark Sherry, Senior Vice President, Mortenson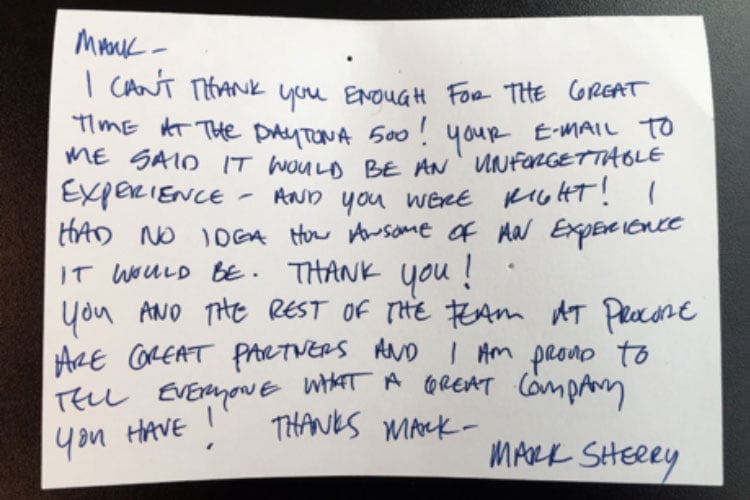 In addition to bringing guests to the race track and providing one of a kind experiences, we have been strategic in leveraging the asset of driver appearances in more intimate business settings. Meeting Kasey at the track is great for the guests, but in a few key markets we have held private dinner events for key potential customers. A perfect example of this was the dinner event we held in Vegas around the World of Concrete convention earlier this year. Kasey Kahne was in the Procore booth at the convention during the day and then that night we held a private dinner at Bavette's Steakhouse & Bar with Kasey and 12 key customers. Our events team secured a private room which allows our guests the opportunity to hear racing stories from Kasey and get a more personal feel for who he is. The event was so successful that it was replicated in additional race markets including Sonoma, CA. at a private vineyard.
At the end of the day this racing program is measured on results and to date we have generated an ROI of 2X.
We signed a multi-year deal with LFR in late 2017 for the 2018 and 2019 race seasons and are currently negotiating an increased spend with LFR for Procore to take on a larger role for the 2019 season and beyond. LFR has been a great partner and has played a tremendous role in the success we have seen thus far within NASCAR. Beyond a sponsor partnership, there is a real business relationship between the two parties. WRL General Construction, owned by LFR owners Bob and Sharon Leavine, is a current customer of Procore's. In fact, WRL had been a Procore customer for a number of years prior to us even thinking about partnering with LFR.
Looking to Build on the Program's Success in 2019
LFR's switch to Toyota and TRD, and an alliance with JGR, is evidence of the team's commitment to improving each year and we are excited to be a key partner in helping them enter into this new season. We are excited about the business opportunities this may provide us at Procore as well as sponsoring Matt DiBenedetto in the No. 95 Procore Camry.
Looking ahead to the 2019 season, we are also excited about the activation elements our marketing and sales teams are working on to enhance the program. Two of the key initiatives are: continuing to grow our business by introducing key customers to the racing experience, and then better educating the Procore employees on the value and benefits of the racing program so that we can have as many supporters of, and ambassadors for, the program as possible.
We understand the need to invest on our side of the racing program beyond just supporting the team with sponsorship. Our sales and marketing team realizes that just putting stickers on the car is not going to generate the business growth needed and Procore's senior leadership is challenging them to create measurable programs that increase business.
"I've been in business for 25 years and can count on one hand partnerships that far exceed my expectations. I consider our partnership with LFR at the very top of the list. The impact that this relationship is having on our business for our employees, customers, prospects and shareholders is transformative." - Tooey Courtemanche, CEO, Procore Technologies
The team at LFR has been great to work with and has provided a lot of guidance as we entered NASCAR as a sponsor. The sport of NASCAR can be cumbersome to navigate and LFR's experience - combined with their willingness to help us avoid potential landmines - has been invaluable. It is a true partnership. LFR is invested in our business and we are invested in theirs.
We are excited about the team's progression thus far and we are collectively looking forward to the 2019 Monster Energy NASCAR Cup Series season.