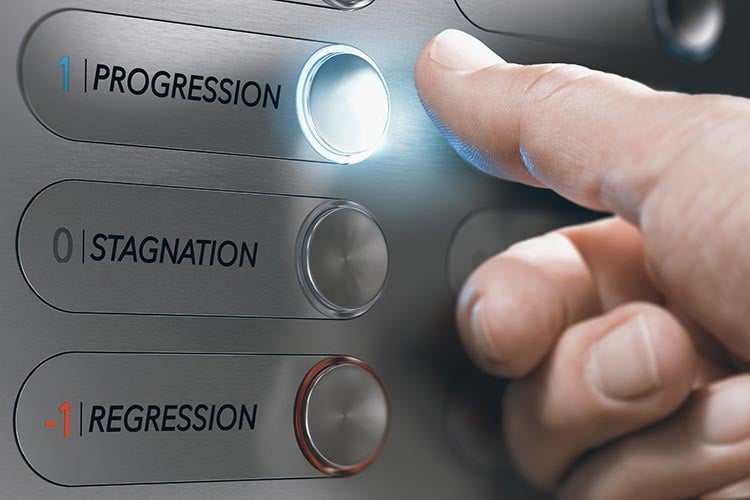 As the beginning of another NASCAR season is upon us, the general feeling towards sponsorship in our sport is uneasy. Now, don't stop reading at this point and assume we are making doom and gloom predictions. Not at all, but as a race team, we take a very pragmatic view of such things. This post is meant to provide our view of how the sponsorship landscape has changed and present an honest and authentic picture of where it is currently today.
Nothing Endures But Change
The mid 2000's in NASCAR saw unprecedented levels of sponsorship dollars – across the board. Tracks, teams, media, drivers – everyone was able to thrive in this sport during that time. Since then, we have moved through the challenging economic conditions in and around 2008, and have experienced a progressively healthier business climate since.
The sponsorship environment still doesn't look like it did in the roaring 2000's. Personally, I don't think it will go back to that level of spending, at least not for a very long time (if at all). We now find ourselves in what many are calling a "correction" phase of the sport.
Many things have changed, including advances in technology that have increased the level of competition in the sport, as well as changed the viewing experience. The attention span of younger generations is much shorter, and - as some of the more popular drivers have retired, and we see a younger exciting group of drivers now starring on race days - our elder generation of fans are struggling to relate as well as they did previously. The sport itself, who consumes it, and how it is consumed have all changed dramatically over the last 10-20 years.
Please hear me out, this is not bad news. Our world has changed, businesses have adapted to this change, and so must our sport. NASCAR has been working to keep up with these changes. Perhaps not as quick as some would hope, but racing at the top levels has evolved in hopes of adapting to meet the demands of a more mobile/faster/need-it-now culture.
"You never change things by fighting the existing reality. To change something, build a new model that makes the existing model obsolete." ― Buckminster Fuller
The Evolution of NASCAR Sponsorship
Sponsorship has evolved as well. Sponsors are paying less and committing for shorter periods of time. We see less of the full season primary sponsors paying $15 million (and up) for the season and more of the $3 - $5 million multi- race primary sponsorships more often.
The business world has driven this shift in spending. More companies are pressing their sponsorship partners for data on ROI (see our previous post on measuring the effectiveness of sponsorship program). Many companies are measuring their sponsorship on hard data that is only possible to measure realistically now that new technologies have been developed.
Sponsorship partners (tracks, teams, drivers, media, league) are working harder than ever to find companies to spend money in NASCAR. Some say the competition in the front office is just as fierce as the competition on the track.
While the sponsorship dollars flow less generously than in the past, the work to find the investment is a continuous battle. Those seeking sponsorships must show companies how their product can meet the business objectives. Gone are the days of a company handing out millions just to see their name, or company logo, on the car. Sponsors that are involved in our sport now typically see a positive return on their investment or they don't stick around very long.
There are too many choices in this day and time for companies to invest their money and NOT receive an appreciable return on their investment or objectives. As a team, we must approach sponsorship differently than the days of old. In my agency days, we always started conversations with new prospects by asking tons of questions, getting to know their business, what worked, what doesn't work, understand their target demographics and where they are. Only once we really understood the company, who they were, and what they wanted to accomplish did we make suggestions on how we could help. The same is true now, we just can't walk around throwing up our sponsorship sales pitch within 5 minutes of meeting someone we think could be a possible sponsor.
For Sponsors, this is good news. Sponsors can be more selective with who they partner with. Sponsors can challenge partners on how they will accomplish the company's objectives. Those making investments in our sport are typically receiving positive value and return. Like I mentioned earlier, if they are not, they move on.
What Do You Expect?
While this has always been true, expectation management in today's sponsorship environment is especially critical to the success of sponsorships. Without expectations stated up front, and ongoing, continuous communication, most partnerships won't last very long. Especially those with six to seven figure investments tied to them.
All parties must do a better job of communicating throughout a partnership. When one party assumes the other knows what is going on or the details around an event, chances are details will be missed and someone will be blamed and learn a hard lesson.
It's crucial to form teams to help bring sponsorships to life, no two people can do an effective job when there should be at least two from each party involved. I have worked on sponsorship teams sometimes commonly called cross-functional teams, with as many as 20+ participants in the past. If you don't communicate expectations from the start, provide the proper resources to support the efforts, chances are you are heading down the path of one and done.
"If you fail to plan, you are planning to fail"
– Benjamin Franklin
Sponsor dollars are too fickle these days for there not to be a solid plan in place from the start to achieve upfront objectives. At LFR, we hold season kick-off meetings with each partner as a platform to communicate all expectations from the partner and team side of business. This is done in an attempt to avoid miscommunication during the season as schedules become full and it is easy to assume others know what is going on. A simple planning meeting on the front end can keep you from serious oversights later on.
With that being said, NASCAR is still a great investment. It is a national sport. Almost 100 teams (Cup, Xfinity and Truck Series) still travel across the United States for 10 months out of the year competing at the highest levels. This provides a year long marketing calendar for companies to activate against. This allows for a business to activate within their geographic footprint – whether it be regional (at a track/race level) or national (series, media, drivers and teams).
There are many different driver personality types to get to know and support. Brands have many choices when choosing a team or driver that aligns with their values or relates to their audiences.


Millions of fans still tune in every week to watch and the races are broadcast on television as well as mobile devices. The amount of ancillary programming (television and social media) has increased dramatically and provides great opportunities for companies to leverage and activate their investment in multiple platforms.


Race weekends provide exciting production quality shows with the pre-race concerts and performances.


You can also find sponsors providing an inside look to their products or services through Fan Zones at tracks on race weekends.
Overall, the sport of NASCAR is absolutely worth considering when a company is looking to invest in sponsorship, advertising, brand awareness or ways to connect with their customers. We see many of our partners using their sponsorship with LFR to increase B2B opportunities. In my role, nothing is more satisfying than to have a partner return for another year because their sponsorship works, and it exceeds their expectations.
We acknowledge that NASCAR sponsorship isn't for everyone. And we are realistic and self-aware enough to accept the changes in the sport, and related shifts in the business landscape that make landing sponsorships more challenging today than in the past. But this inspires us – as I hope it does all in the sport – to work harder to identify, and clearly articulate, how NASCAR sponsorships can deliver measurable business benefits. Ultimately, we believe there is still tremendous value to be realized when the right sponsor and partner get connected.