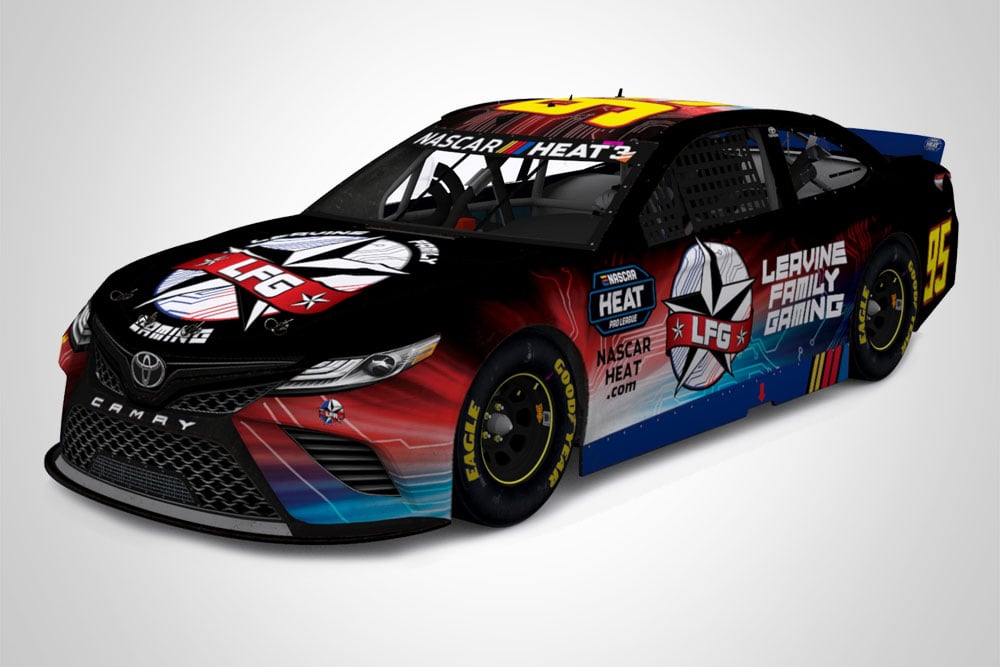 Many of our childhoods were spent playing some form of video games. Staples of the video game industry have almost always been games about sports, shooters, and racing. Growing up as a fan of NASCAR and owning a PlayStation, I distinctly remember the Christmas morning when NASCAR 06 Total Team Control was under our family tree. Countless hours were spent pretending I was Dale Jr. driving the No. 8 Chevrolet.
Fast forward to 2019 and the birth of the eNASCAR HEAT Pro League. The eNHPL is the first-ever NASCAR eSports league on video game consoles. Many of NASCAR's top teams now field their own eSports team with their drivers competing on the Xbox and PlayStation consoles. While the league is centered on the same game, it is segmented by platform (Xbox and Playstation). So, gamers specialize in one platform and will only compete in the league on that preferred platform. Perhaps we should have taken our childhood of games more seriously. In this league, 28 gamers will represent prominent NASCAR race teams in a 12-race season.
Introducing Leavine Family Gaming
As a member of this new league, Leavine Family Racing has created our own eSports team, Leavine Family Gaming. Leavine Family Gaming will compete full time in the eNHPL. During the month of March, a draft was held at ISM Raceway in Phoenix Arizona. Here, Leavine Family Gaming drafted two of the best NASCAR Heat racers in the country. We sat down with the drivers from Leavine Family Gaming, Josh Harbin (ThAbEaR95) and Nicholas Vroman (HDMotorsports95) to learn more about the eNHPL and their paths to being the being professional gamers.
The obvious first question, why would these NASCAR Cup series teams put time, money, and resources into this? The easy answer, eSports is a new and emerging space that speaks to a demographic that is different from traditional racing. According to Business Insider, 62% of US eSports viewers are aged 18-34. In addition, Business Insider states that 56% of US Gen Z men (aged 13-21) said that nontraditional sports are "relevant to my generation."
It is estimated that more than 250 million people watch esports, and most of those viewers also play (source).
Based on these stats, it is clear that there is a market for eSports. It is highly likely that there are millennials who are familiar with eSports but are not familiar with NASCAR. A great example of this can be found with Leavine Family Gaming competitor Nicholas Vroman. Vroman is 25 years old and lives in Baltimore MD. He is a lifelong fan of gaming but only recently became interested in NASCAR. Vroman enjoyed playing racing games such as Forza. His love of racing games led him to trying NASCAR Heat. His interest in the sport of NASCAR grew from there. He was drawn to the competition and intensity of NASCAR conveyed through the video game. Vroman put in the extra hours to compete and become eligible for the eNHPL draft. Leavine Family Gaming hand-picked Vroman to represent the team on the Xbox platform. The team drafted Vroman with the intention of winning races and competing for a championship. Vroman has said that anything less than a championship would be a failure of a season. In that respect, he sounds a lot like the professional NASCAR drivers who compete on track each week in a more analog world.
On the opposite end of the spectrum, Josh Harbin competes on the PlayStation platform for Leavine Family Gaming. Harbin is a lifelong fan of NASCAR. Growing up in Tuscaloosa Alabama, he attended races almost every year at the Talladega Superspeedway. His love of NASCAR led him to the NASCAR HEAT video game. Harbin spends 2-4 hours daily honing his racing craft. He uses this time to set up his racing lines, develop his set-ups, and plan out his race strategies. Vroman and Harbin came to the eNHPL on very different paths, but now they work as teammates who are pursuing a common goal.
Why is NASCAR Doing This?
Vroman says the level of competition is the most intriguing part of the eSports league. Fourteen drivers start each race (on each platform) and fourteen have the chance to win. That close competition is what we believe will make the eNHPL compelling and worth the watch. NASCAR has long been criticized for being behind the times and out touch with an evolving fan base. Their involvement in eSports confronts this challenge head-on. The formation of this league puts NASCAR in the same breath as the NBA and the NBA 2k eSports league. The NBA 2k league was formed in 2018 and boasted 656k unique viewers in their inaugural season. There are a number of tangible business benefits from the formation of the eNHPL:
• The opportunity to reach a brand-new audience and introduce them to the sport of NASCAR
• Further engage existing (or lapsed) fans in a new and interesting way
• Increased opportunities for fans to consume the sport, by taking in the league races
• Creation of new inventory and assets that the series (and teams) can potentially monetize. As an early sign of these monetizing plans, league organizers are currently looking for a naming rights sponsor for the league. The asking price for that deal is in the mid-to-high six-figure range.
Overall, the hope is that this league will bring with it an entirely new demographic of devoted viewers as well as fans that can bolster the strong demographic numbers that are already in place. It is a new opportunity, one that Leavine Family Gaming is proud to be a part of.
To find more information about Leavine Family Gaming, visit this page on our site.
Follow LFG on Twitter: @LFGaming95
Follow LFG on Instagram: @LFGaming95