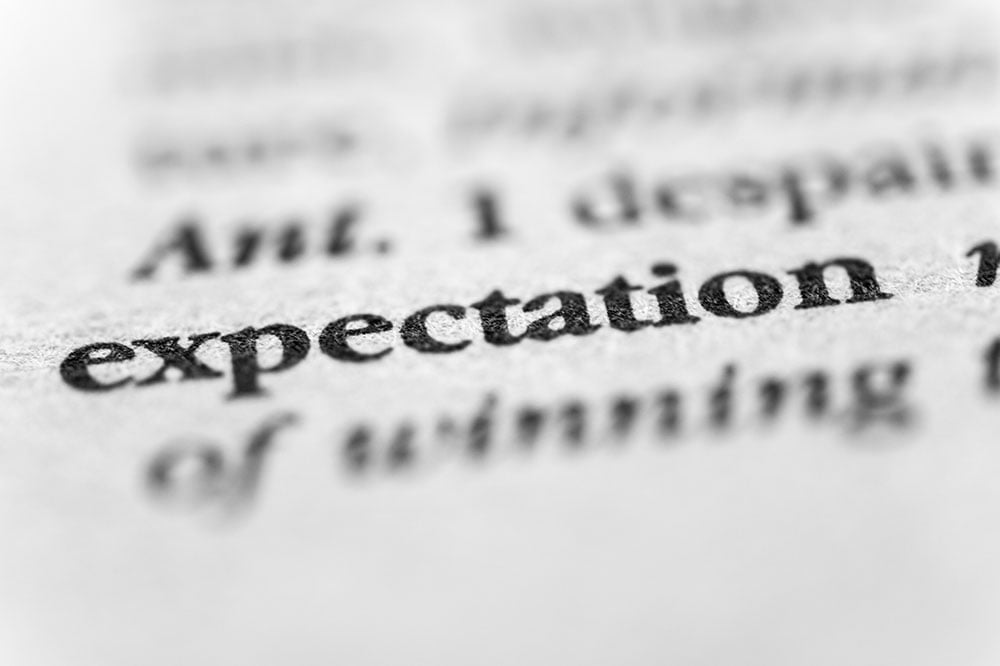 An expectation is the thought or belief of what will happen or what one would like to happen. Managing expectations is part of life and, in turn, part of business. Racing is all about managing expectations. We deal with managing expectations each and every day, including each race weekend.

Outside influences such as the media and race fans have their own expectations based on projections, rumors, etc. But the primary focus of race team management is on our own internal expectations as well as the expectations of our sponsor partners.
What Are You Racing For?
At the beginning of each race season, we discuss and set the expectations for the upcoming season. These expectations are most often articulated in a set of concrete goals. Being realistic in setting these goals is important because they are what the performance of the team will be judged on.

We have to be honest with ourselves. We have to consider where we are in our journey as a race team. We have to keep this in mind as we set goals that will serve as benchmarks relative to our competition. In our case, Leavine Family Racing is only in our third year of racing full-time. Compare this to other teams in the garage, who have been racing for substantially longer than that, and it won't be surprising that our competition goals are different. This isn't excuse-making, this is an exercise in practical expectation management.

In our sport, only one race team can win the race each week. That does not mean, however, that the other teams are not racing for something. Some race for pride, some race for a profit, others race for the thrill of it. Our expectation is to race the best race possible, and to learn and improve each week. There is a race inside the race and we strive to be the best finishing race team in our alliance.

Racing presents opportunities each week for you to exceed expectations. The challenge is making sure to find a way to capitalize on them and take full advantage of the moment. One of our governing internal philosophies is that we don't always need to hit a home run to "win the game". Sometimes, a double and a single can score the game winning run. Our job is to put the right people in the right position and trust them to do their jobs, all while setting and managing realistic expectations.
Measure ... and Improve!
One of the most important reasons to set realistic goals is to provide a framework within which you can measure performance improvement. In order to continue on our path of growth – and desire for improved on-track performance – we set expectations that are achievable, but not easily so. They aren't too comfortable, nor are they impossible.

For example, it would be unrealistic for us to expect our race team to win a championship at this point in our life cycle. A much more realistic expectation would be to try and win a race (at a superspeedway, most likely) and sneak into the Monster Energy NASCAR Cup Series playoffs. Still a reach, but more manageable than a run at a championship.
"Don't lower your expectations to meet your performance. Raise your level of performance to meet your expectations. Expect the best of yourself, and then do what is necessary to make it a reality."


– Ralph Marston
If we are being honest with ourselves, looking back on our performance thus far in 2018, we have fallen short of our on-track expectations. We have not met our own internal #progression goals to be more competitive on a more consistent basis. This gap allows us to be introspective, identify the root causes for the gaps, and work to close them over time.
While winning races will always be the primary benchmark against which all race teams are measured, running a race team is not just about on-track performance. Despite the fact that we have not met our own expectations of performance on track, we have been very successful in 2018 in providing service and access to our partners on and off the track.
How Do You Define Winning?
Which leads us to the other critical set of expectations that must be managed, those of our sponsorship partners. Like every race team, they are our life line and allow us race in the Monster Energy NASCAR Cup Series each week. In these business relationships, we are committed to playing an important role in managing their expectations before the relationship starts and determining what the relationship will look like over time. This includes on-track performance, at-track access, away-from-track access, B2B introductions, etc.

Sponsorship deals today are all about relationships, and the value that is derived, or delivered, as part of those relationships. When evaluating expectations with a partner, set the focus on where value can be delivered as part of the deal. This may have lots to do with how you perform on track every week. It may have nothing to do with performance on the race track.

As we have discussed in previous blogs, our primary focus is to create programs that deliver business outcomes that don't have much to do at all with what happens to the car on-track. Keeping the partnership expectations in line with performance expectations seems obvious, but is critical to establishing long-term partner relationships, where the partner understands what they can achieve for their business along the way.

The worst possible scenario for any partnership is for there to be false expectations set forth in the beginning of the relationship. Those deals tend to be sponsorships that you see come and go as quickly as the race car goes around the race track. On the other hand, if expectations are managed appropriately, and success metrics are clearly defined, in most cases both the team and the partner are eager to renew the deal when the initial term is up.
Know Your Limitations, Build on Your Strengths
Just as we must consider our own challenges when setting expectations on the competition side of the business, we must do exactly the same thing on the sponsor relationship side of the business. Understand what you do well, while also acknowledging your own limitations. You cannot be everything to everyone and you have to be upfront with partners on what you can provide.
First and foremost, we are a race team. Our core competency is putting a race car on the track week in and week out. We are not an agency, we are not a retailer. Sponsors looking for those types of services from a race team are likely to be disappointed. That said, as industry experts, we can be a trusted advisor to our partners and help them navigate the NASCAR landscape, and help them understand how a relationship with a NASCAR entity can help their business.
Knowing these limitations set us, and our partners, up for success. Bob Leavine, our primary team owner, uses the old Clint Eastwood quote "A man's got to know his limitations". Well, as a race team, we know our limitations – which is to say we know what we do well, and what is best left to other experts – and that is what we feel makes us a strong fit for our partners.