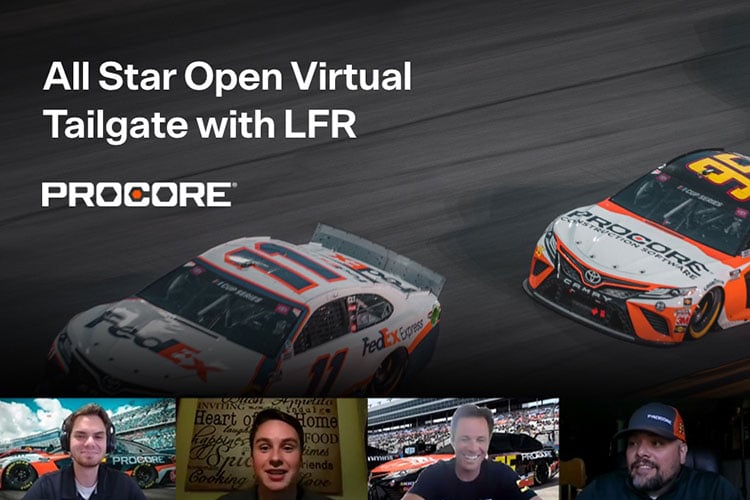 Now that NASCAR has returned to action, we wanted to share the pandemic's effects both during the COVID-19 break and after. The first step in the 2020 evolution after the break was to get cars back on the track. So far, NASCAR has run 11 races on a compressed schedule. Race days have varied from the traditional Sunday afternoon time slot to the non-traditional Wednesday evening trial runs and double-header weekends. This unique, collaborative effort has allowed all missed races to be rescheduled - a massive initial win for the series and its dedicated fans.
While the work to get the cars back on track was occurring, a similar collaborative effort played out on the sponsorship side. In an effort to protect and keep healthy the pit crews and drivers of the teams, NASCAR has limited the access into the infield and garage areas – both thriving places for sponsors to huddle up and entertain VIP customers as well as mingle with other business executives as they explored B2B opportunities. These new restrictions have an obvious trickledown effect on the sponsorship side of the business. All involved have – out of necessity – needed to be creative to adapt to this changing environment.
Thankfully, to this date, we have only heard of one team across all three series of NASCAR losing sponsorship over the inability to access the infield on race weekend. This is great to see and shows that most teams and sponsors understand the pandemic and are willing to work together to find a mutually beneficial solution as partners in the sport. One result of this "new normal" is some sponsors have been able to reduce their entertainment budget and shift that money elsewhere for the time being , helping companies stay afloat and avoid furloughs or layoffs.
Here at LFR, we have shifted our guest interaction online with Procore. From Christopher Bell meet-and-greets over Zoom to virtual watch parties with special guest appearances, we have been able to connect and continue to build deeper relationships with Procore guests online during this time. In addition, our B2B efforts have continued to move forward as there has not been much change in connecting two parties over a Zoom call – something we were doing prior to the pandemic.
Increasingly, stake holders are looking to try and migrate what have typically been off-line, analog activities into the digital space
Even before cars got back on track, there were significant transformations back in Mid-May. iRacing stepped up and rallied the Cup drivers to participate in an esports Pro Invitational which was held online at the day, time, and at the track NASCAR would have been regularly scheduled to race at that particular week. This provided a unique way for at-home viewers across the world to view or stream these live esports events via FOX and FS1. This allowed sponsors to continue to achieve brand awareness goals as the races successfully pulled in comparable viewership numbers to their live and in person counterpart races from previous years.
With a shift in focus to online engagement during the break, many teams are not only continuing to create digital content, but also looking at ways to enhance their digital communities. For example, at Joe Gibbs Racing, CTO Bryan "Boris" Cook has created a Twitter show "How To Draw Race Cars With Boris." This type of creative content is engaging for younger fans and helps provide value to adult fans by providing an activity for kids at home during COVID-19 – a new need in times of "quarantine."
Amid all of this change, we have to ask ourselves what the future looks like for NASCAR sponsorship moving forward? Without a crystal ball, all we can do is analyze the data we have in front of us to help our predictions and planning. Recent studies show that America has jumped about five years forward in consumer and business digital adoption in approximately eight weeks (source: McKinsey.com) – genuinely incredible!
Many businesses have quickly adjusted and evolved their offerings to meet the consumer's new demands in the short-term. For long-term success, these businesses will need to continue to develop their marketing and customer interaction to best promote their new and old products in the new climate we live in. To execute, companies will need to continue to grow and evolve their digital and social media presence to make up for our lack of face-to-face time. We have seen businesses work in new ways to engage with their community, from TikTok skits to churches streaming Sunday morning services on YouTube, and we expect this to continue for the foreseeable future.
The rapid migration to digital technologies driven by the pandemic will continue into the recovery. Recent data shows that we have already vaulted five years forward in consumer and business digital adoption.
- Source: mckinsey.com
The way in which we go about day-to-day life – not to mention how we handle marketing – is now very different. This does not mean, however, that we cannot continue to serve our customers. In our sport, the sponsors will follow suit – moving to more digital products and services, sometimes to complement existing physical products to create a more balanced line, and expanding their digital environments and communities. There may be a shift in how these sponsorships are tangibly activated, but there will still be branded opportunities in sports.
As we see this change literally taking place before our eyes, we encourage you to embrace it, but don't hold on too tight as our world is very fluid these days. Sponsorships in our sport will evolve as the business world responds to these new and ever-changing circumstances.