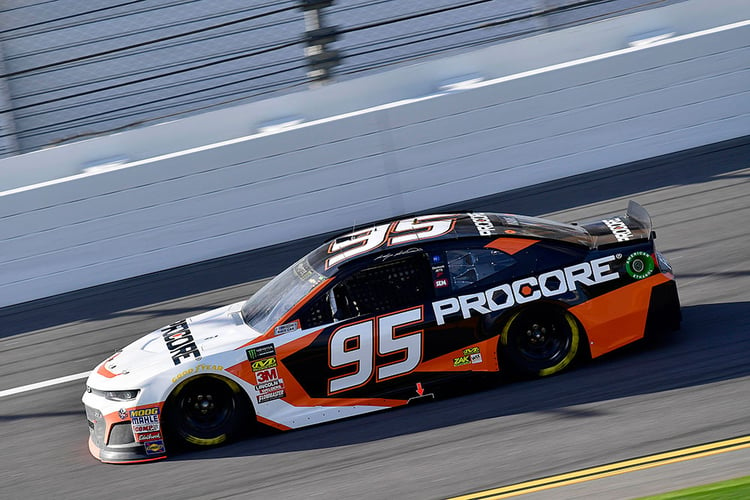 The question about how race team sponsorship works is actually much more intricate to answer than it may seem from the outside. Outside, it looks like a few stickers are slapped on the side of a car that goes around the track during a nationally televised event. Millions of people watch and come flocking to your brand, right? Actually, it's far from that.
The most successful NASCAR team sponsorships (we like to refer to them as partnerships) are viewed as a platform with a multitude of assets utilized for a variety of businesses. Not to worry, we break it down into clear and concise steps so that, when the plan is fully implemented, it will produce an ROI that can help build a brand, activate a product, or improve market share.
The NASCAR Racing Experience
The first step is to understand the opportunities within the sport. NASCAR racing is a sport that does not easily, or completely, translate its partnership benefits through television. Racing needs to be experienced to be understood. Time should be invested in attending a race with a team. This will allow companies to fully understand the opportunities available and how it can translate into a product or service.
If it's a B2B opportunity, identify how client entertainment can work in the garage, who you're going to invite, and what other teams are in the garage that may be beneficial. If it's a B2C product, establish all the branding opportunities that exist, where sampling can occur, and how you can creatively use the space that's available is important.
Rationalize Your Sponsorship Goals Against the Assets Available
Now that you have experienced the platform, your team can sit down with the sponsorship team and merge your goals with the assets available. A NASCAR team is unlike other platforms in that it actually has a larger number of options available than many other sponsorship opportunities.
The media coverage on the car is one piece of a platform which includes a heavy amount of digital, database development, hospitality, branding, and 'Out of Home' just to name a few. If it's all or a few of these you are looking for, identify the assets that will most benefit the product or service. Remember, this is a marketing platform, use all of the assets available to your advantage.
Build out a Budget, That Includes Activation
This meeting should also include a budget review. Don't forget, an important part of the partnership is activation within your organization. Photo shoots, creating a landing page, content creation, activation costs, internal promotion with your staff and employees, etc. is a necessary requirement when fully utilizing a partnership.
Industry averages suggest that an additional 20-50% of the cost of the partnership should be budgeted for additional spending. That cost may be a soft cost of current staffing but still should be considered when looking at the overall budget. Realistic budgeting is key to building a successful program.
Design the Sponsorship Program
With clear goals and a realistically-defined budget, developing a plan is the next critical step in how team sponsorship works. Design the program with your team and then with the partnering team. This is where a true partnership will show itself. Plan the use of the program internally and explore how you can use the assets you have. Spend time thinking through the areas and how you can use the platform effectively, and best use the assets you're paying for.
Once your plan is created, review the plan with the partnership team. They should be there as a partner who can help advise on the plan and point out changes that can be helpful. Take your time planning! It's the most critical step and not much different than a coach going into a game with a good game plan. Many times, there is twice as much time spent creating a game plan upfront than time spent implementing that game plan.
Execute and Measure Results
Implementing the program just becomes execution. Executing the partnership with both teams should be a dual effort based on the mutually agreed upon plan. The created schedule, content plan, branding, and activations can be executed by market or time of year.
Measure the success, adjust, refine, and improve. In today's marketing environment, analytics is as critical as ever. Without it, you're relying on gut feel or a hunch if a program is working. Tracking and measuring the return of the visibility of the brand, numbers of views, time spent on the created content, visits to the website, closed business or purchases made, are all items that need to be tracked and valued.
A partnership should include third-party tracking to return an unbiased dollar value of the assets that are being utilized. Review this information quarterly to make sure that your budget is being spent wisely. If adjustments need to be made, don't be afraid to make them.
Wrap-up
In a NASCAR sponsorship specifically, we encourage you to start small. The most successful and long-term partnership in this sport started with a small package that tested one or two assets and races, measured the success, and grew logically over time. Don't be afraid to start small and build success over time.
In the end, a well-thought-out plan and clear communication on all sides will make the partnership work. Visit the platform, establish goals, and truly partner with the team in the execution. After all, they should have your best interest in mind. If you do that, you'll ensure that any team partnership will be a success.