Business-to-Business (B2B)
Unlocking the Value of B2B Connections in NASCAR


If there's one thing that is a differentiator from the business of NASCAR to other sports, it is the long history of business-to-business interaction. NASCAR certainly isn't the only sport where this happens, but B2B is a big part of NASCAR's heritage and a big part of how the sport functions today.
This isn't necessarily obvious to the casual observer, or potential first-time NASCAR sponsor. Historically, consumer brands have been front-and-center from a sponsorship standpoint, bringing a lot of the sponsorship money to the table. This harkens back to the roots of stock car racing where each of the car manufacturer brands talked about "winning on Sunday, and selling on Monday". Meaning, they were using the performance of their drivers on-track over the weekend to sell more cars the next week.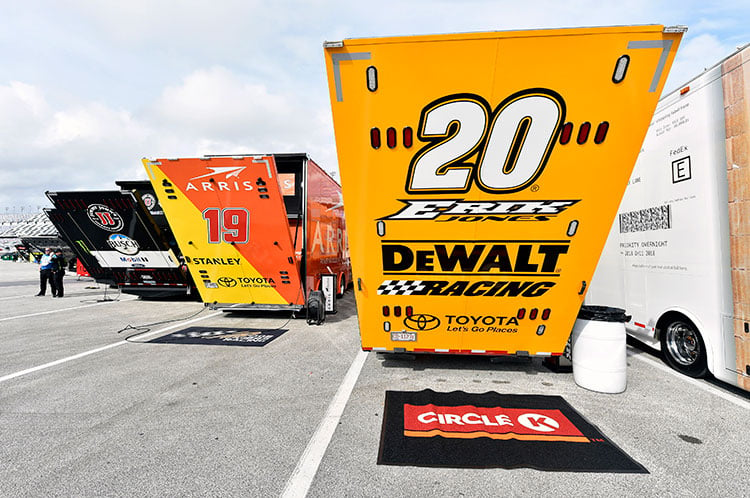 Over the last 10-15 years, the landscape in NASCAR sponsorship has changed significantly. Purse strings have tightened, and there is a greater focus on measurement and justifying the return on investment (ROI) on marketing spends.
Now, it's no longer "win on Sunday, sell on Monday", it's "race on Sunday, sell seven days a week". There is now an overall pressure on the industry to create direct revenue for sponsors. With consumer brands gradually pulling back their involvement and investment over time, B2B continues to grow in importance.
The easiest way to illustrate the value of B2B connectivity in the sport is through examples. Keeping in mind that there aren't specific categories of business-to-business sponsorship models, as these can be simple and straightforward - or complicated and nuanced.
One of the most straightforward examples of this value is the primary sponsor relationship that Procore has established with Leavine Family Racing. Bob Leavine, team owner, is a successful businessman in the construction industry. His 35 years of experience – and connections – in that industry is of great value to a company like Procore, who, incidentally, sells software that help contractors manage construction projects and who WRL is a customer of.
The team hopes to deepen their relationship with Procore and take their sponsorship to another level in 2019. The team recently announced a partnership with Toyota (and TRD) for the 2019 season. As the conduit between Procore and Toyota, LFR has the opportunity to deliver value to both companies. After all, Toyota builds dealerships across the country and can likely use software to help them better manage those construction projects.
Driving Real Value


Upon implementing their sponsorship with LFR, Procore now sees as much traffic on their website on race day (usually Sunday) as they do on a standard work week day. It has effectively given them another sales day in their week.
Additional examples of how NASCAR helps companies drive B2B value:
Shell-Pennzoil is a primary sponsor of Team Penske and the No. 22 car in the Monster Energy NASCAR Cup Series. As part of this deal, Pennzoil products are used across Penske companies.
Axalta is the primary sponsor of Hendrick Motorsports and the No. 88 car in the Monster Energy NASCAR Cup Series. Axalta paints are now used in thousands of Rick Hendrick-owned dealerships across the country, as well as on the Hendrick Motorsports campus.
Target brokered a deal with Chip Ganassi Racing across their NASCAR and IndyCar racing programs. Target was able to compel some of their consumer brands (Huggies, Energizer, Clorox, etc) to become associate sponsors and essentially
foot the bill for the race team sponsorship in exchange for shelf-space for their products in Target stores across the country.
Kroger did a similar deal with JTG Daugherty Racing where the No. 47 car is branded with various Kroger partners each week such as Velveeta, Nature Valley, Maxwell House, Tide and Cheerios.
Mars leveraged their M&M's brand sponsorship with Joe Gibbs Racing in the opposite way. The M&M's brand is showcased as the primary sponsor on the race car each week. They also feature a different vendor on the TV panel every week in an effort to help build a relationship with a retailer in that region. For example, CVS.
While many sponsorships benefit greatly from the massive consumer exposure NASCAR can deliver (see the Mars / M&M's example above), there are other deals where that has, in fact, almost a secondary consideration. Take Dumont JETS, a Leavine Family Racing team partner, as an example. Dumont JETS – a growing leader in executive aviation – does not benefit from being on the No. 95 because the general NASCAR fan is not necessarily their target customer. Their customers, those that are likely to charter a private jet, are executives at Fortune 500 companies. Where the LFR sponsorship delivers value to Dumont JETS is in access to the NASCAR "garage", where they can get in front of more Fortune 500 companies and people associated with them. Not to mention the drivers, who would be a target-rich group for Dumont JETS.
Did You Know?


There are more Fortune 500 companies involved in NASCAR than any other sport
In 2018, more than 1 in 4 (28 percent) Fortune 500 companies continued to invest in NASCAR
The number of Fortune 500 companies investing in the sport has grown year-over- year five of the last six years (since 2012)
Nearly half of Fortune 100 companies invest in NASCAR
The number of Fortune 500 companies investing in NASCAR has increased 29 percent since 2008
Further, there are many blue chip global and privately held corporations involved in NASCAR but not accounted for in the Fortune 500 (i.e. Mars, MillerCoors, Shell, Toyota)
How A NASCAR Sponsorship is Like A Country Club Membership


There's a reason people often talk about doing business deals on the golf course. It's estimated that 90% of Fortune 500 CEO's play golf, and that number is likely similar for small business owners and entrepreneurs. Furthermore, 80% of executives say that playing golf enables them to establish new business relationships (Source: Forbes).
So, what makes the golf course such an attractive vehicle for doing business? The style of game play gives the participants lots of time to talk, and interact, with each other. For this reason, the sport acts as a unique networking tool, allowing for potentially meaningful connections on the course.
Taking this a step further, belonging to a country club allows members further opportunities to interact with one another, leveling up the networking possibilities. Just like the country club, the NASCAR track (and garage area) is a target-rich environment for business relationships.
Both the country club and the NASCAR "garage" are members-only organizations. You can't get into the club to play a round if you're not a member, and your access to the NASCAR garage will be limited without a sponsor relationship
Both have entry fees associated with them; sponsorship fees in NASCAR and membership fees at a country club
Both NASCAR and country clubs are target-rich environments for business relationships and conversations
At a high level, all the assets that comprise a NASCAR sponsorship are pretty much the same (or at least very similar) from team to team: haulers, pit boxes, tool boxes, etc. The same can be said of country clubs. All country clubs have the same (or similar) assets: golf courses, pools, tennis courts, club houses, etc.
Both the country club and the NASCAR garage offer the opportunity to entertain. Business professionals use their country club memberships to cultivate new business relationships and/or grow current business relationships. The NASCAR garage is no different as it provides an exciting arena to host new and current business customers. It's similar being on the sidelines and in the locker room for an NFL game.
If being down in the action within the garage isn't for you, don't worry, there are plenty of other corporate hospitality options. All NASCAR racing venues have fully catered suites and/or trackside chalets where you can catch the action up close and still have the comforts of home or your favorite country club.
Once you get into the sport, as a sponsor, the doors are open for business. NASCAR stakeholders are willing to assist you in B2B connections as they understand that by making a connection it may help their sponsors while helping you which creates a "win-win" scenario.
The most important thing to keep in mind, however, is that the sponsorship is just the price of entry. While the meetings on the course - or at the track – are included for "free" with that entry fee, it's ultimately up to the sponsor to close that B2B deal.