Activation
Bringing Your Sponsorship To Life



This section authored by Jim Richards, CEO of Market Share Sports, a client-focused, full-service agency who authentically leverages marketing partnerships to drive measurable business results for your brand.
Race team sponsorships, specifically in NASCAR, present great investment opportunities for brands. There are lots of positive signs for future growth.
National property that can be activated regionally
Large group of loyal fans
New emerging talent
Social media activity is improving
Integration of innovative technology
There is no sponsorship opportunity known to man that is good enough to stand alone and deliver ROI needed to justify the expense. You can't sponsor a team – or any entity, really – and wait for the dollars to flow in.
This is a rather obvious dynamic in the sponsorship space, yet we still see way too many brands make the decision to invest in sponsorships without a real plan for activating them in a way that will drive sales.
Especially in today's competitive business environment, where every marketing spend must be justified with some measure on return, you cannot decide to spend significant dollars on sponsorships without a meaningful activation strategy.
What is activation? Activation is defined as the action or process of making something active or operative. At Leavine Family Racing and Market Share Sports, we define it as "bringing sponsorships / partnerships to LIFE!". These are the specific tactics and activities that you deploy – using the assets you acquired from the team – to achieve your sponsorship marketing goals.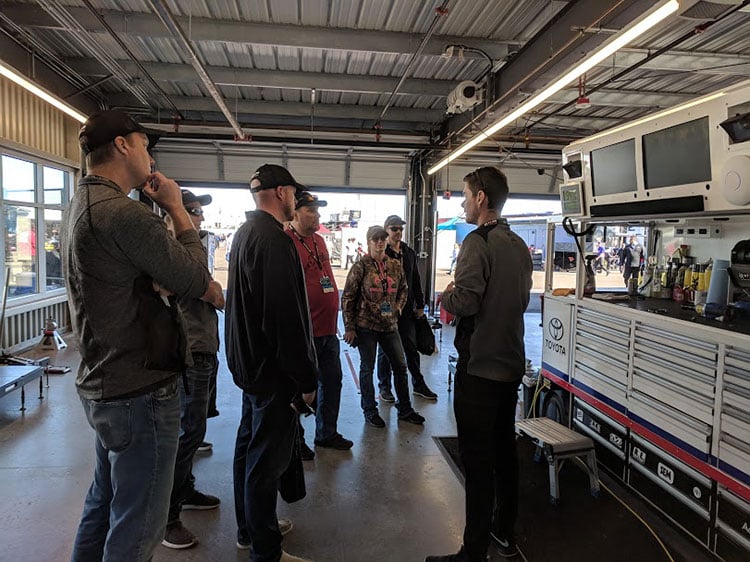 Making Sponsorships Work is Your Responsibility


You must be an active player. Communicate your company's expectations to the race team, jointly figure out their role in the overall strategy, and then plan for how you and your agency partners are going to leverage your new racing assets to drive business.
You know your business. You know what it takes to sell your product. You know how your CEO, Board, boss, etc. measure successful marketing programs. Race teams may have an idea from working with similar companies in the past, but they do not understand the intricacies of your business. You shouldn't expect them to.
Beyond providing the assets to partners against which they can activate their sponsorship, the team's core competency is putting cars on the race track every week, and making those cars go as fast as possible. The team can certainly help the sponsor in areas where it makes sense – like guest services, or hosting at the track - but with race team budgets tightening just as much as sponsor budgets, resources are at a premium. The groups that are doing this right, don't overpromise (be wary of those that do). They understand their limitations, and are open in their communication with sponsors about this, and in turn, the sponsors have a respect for the fact that they can't do it all. Ultimately, the responsibility for making your sponsorship successful falls to you.
Define What Success Looks Like


Sports sponsorships are just another marketing platform. They are more fun than most, but this is still business. Sponsorships will be held to the same standards as your other marketing investments. If there are no measurable results associated with your sponsorship, it is highly likely that your budget will be cut when the contract comes up for renewal.
Most importantly, those measures must be rooted in meaningful outcomes for your business. In most cases, we point this conversation back to sales. That's because there isn't a single financial performance spreadsheet on Wall Street (or on Main Street) that has anything to do with impressions or ratings, two very common measures of sponsorship outcomes. Review your business plan and align the sponsorship outcomes with that plan.
This isn't to say that the ONLY meaningful metric is sales. We recognize, and acknowledge, that things beyond sales should be measured. Perhaps the sponsorship is meant to address cultural issues through an employee incentive program. The point here isn't so much about one specific measure, it's about identifying that measure and building the sponsorship activation plan around it.
Plan For Every Touch Point of Your Business


If you have ever been pitched a NASCAR deck, you have heard about how loyal the fans are to sponsors and how your logo on the car creates awareness for your brands. Though impressions are valuable, there is no line item for impressions on a financial statement.
Fans are loyal, but if they can't find your product on the shelf at their local retailer, then they can't buy it. Don't limit your vision for what can be accomplished with your sponsorship to just brand awareness. This investment can impact every touch point of your business.
M&M's is one of NASCAR's longest running team sponsors. It's a cool car and fans love it, but you are mistaken if you think that is why they have been in the sport for so long. Their sales force "sells in shippers", "dump bins" and "display units" on a weekly basis as NASCAR makes its way through the season. They entertain VIP's and execs from key customers at the track. They work B2B relationships with other NASCAR and team sponsors. There are employee incentive programs. They win before they ever get to the track because their activation has been built to impact every touchpoint of their business. What the team does on the track that weekend is a bonus.
Not everyone has the budget or a product that is as easy to merchandise as M&M's. However, the sooner you start integrating your sponsorship into various parts of your business the better.
Don't Go It Alone


Like most things in life, anyone can put a sponsorship program together, but not everyone can do it well. You do not have time to figure this out on your own. Make sure you hire a consultant/agency partner to help you on this journey. This might seem a bit self-servicing, but the truth is the industry expertise, relationships, resources and time that agencies bring to bear can all help you achieve your ROI/ROO quickly.
Sponsorships are fun! Everyone enjoys the process of becoming an insider with a sports team, being the internal champion at their company, having a hard card, etc., but it doesn't take long to realize that this is work. Prepare in advance so that your sponsorship investment will have the best chance to be successful.