About Leavine Family Racing
What Makes Us Different


Team Overview


Since our inception, Leavine Family Racing has been committed to growing into a contender in the NASCAR Premier Series garage, as seen by its move from part-time to full-time competition. Knowing there would be growing pains, LFR has shared its #progression on social media, including the 2018 season as former championship contender Kasey Kahne brought a new perspective to the group.
In 2019, the organization begins a new chapter on its path by aligning with powerhouse Toyota Racing and receiving full OEM support. LFR will also have a new driver behind the wheel of the No. 95, Matt DiBenedetto, as it embarks on its fourth season of full-time competition in the series.
Approach to Sponsorship


When you take into consideration the three points of the sponsorship triangle (i.e., property, agency, brand/sponsor), LFR has upwards of 75+ years of combined experience in the professional sports sponsorship landscape.
In our experience in working with many different companies over the years, what seems to resonate the most with our sponsor partners is the relative priority, or value, we place on sponsorship relationships compared to other sports.
Unlike other sports, where sponsorship dollars are more of a nice-to-have, in racing they are a MUST have as that is the lifeblood of a team's success. The team cannot survive and thrive without it, so for that reason, we care about it that much more. This is reflected in the way in which we approach our relationships with sponsors. We view these relationships as deep partnerships rather than just sponsorships.
From the sponsor perspective, partnership alignment is crucially important. In other words, partnering with the entity that is the best fit for your business. There are many factors that can influence this alignment such as: budget, approach, market position, size of organization, flexibility, etc.
Beyond those fairly typical measures of business alignment, value alignment can be potentially more potent in delivering positive outcomes from a sponsorship engagement. At LFR, we consider ourselves to be a "challenger" team. Not necessarily in the top-tier of NASCAR teams, from a competitive standpoint, but we maximize results by working both harder and smarter. These values would align very well with a brand who may not be #1 in their market, or space, but who occupy the second or third spot and are looking to move up by working harder and smarter than their competitors. Maximizing the return of the efforts they pour in on a daily basis.
A Timeline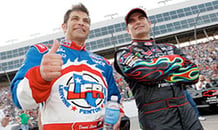 2011
Competed in four NASCAR Premier Series races in its inaugural season with David Starr. Debut race was at the team's home track of Texas Motor Speedway. Starr finished a season-best 27th at Bristol.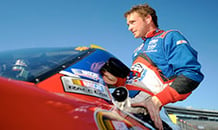 2012
Scott Speed competed in 15 races for LFR, highlighted by a 17th-place finish at Watkins Glen.
2013
LFR competed in the prestigious Daytona 500 for the first time. Speed ran six races for the team and earned a season-best finish of ninth at Talladega, which was also the first top-10 finish in company history. Reed Sorenson competed in 12 races.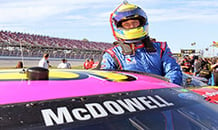 2014 - 2015
Michael McDowell became LFR's primary driver as the team still competed on a limited basis. Season highlights in '14 included a second top-10 finish for LFR at Daytona in July and an 18th-place finish at Bristol. In '15, LFR raced their way into the Daytona 500 and competed in a total of 15 races.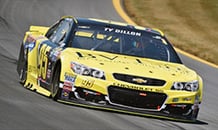 2016
The year LFR raised the bar to become a competitive NASCAR Premier Series team by deciding to run full-time. Partnered with Circle Sport to create Circle Sport – Leavine Family Racing, McDowell split time in the No. 95 Chevrolet SS with Ty Dillon. LFR ran two entries in both the Daytona 500 and season finale at Homestead. The team finished its first full season with 21 top-25 and 10 top-20 finishes, plus two top-10 finishes.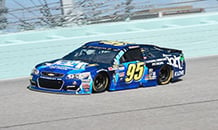 2017
McDowell ran the full season for LFR and helped the team become a consistent top 20 finisher. During their best season together, LFR and McDowell recorded 15 top-20 and five top-15 finishes, including the team's career-best result of fourth at Daytona. LFR also finished the '17 season as the team that completed the most laps in the series – 98.7 percent. It was also during the '17 season that Procore Technologies partnered with LFR for the first time at New Hampshire Motor Speedway.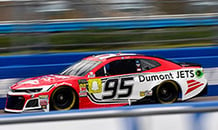 2018
Former championship contender driver Kasey Kahne joined the team for its third full season. Kahne tied the team's career-best effort with a fourth-place in the summer Daytona race. Additionally, LFR saw increased support and involvement from Procore. The company went from a once small partner to having learned enough about the sport to step up and become a foundational team partner with multiple races of primary sponsorship.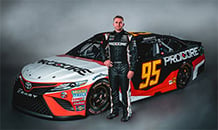 2019
The team will begin fielding Toyota Camrys in the Monster Energy NASCAR Cup Series with driver Matt DiBenedetto piloting the No. 95 Camry. The 2019 season marks several exciting changes for LFR as the team transitions to a new partnership with Toyota Motor North America (TMNA) and Toyota Racing Development (TRD).

- Led the most laps in the 2019 Daytona 500.
Team Owners


The single-car Leavine Family Racing team was founded in 2011 by Bob and Sharon Leavine, two individuals who are passionate about NASCAR and started the team to make a positive impact on the sport and community. LFR is an organization competing in the NASCAR Premier Series focused on growing competitively and providing results-driven partnerships for its sponsors. The team operates out of Concord, NC, with a veteran group of racing personnel and is driven by several key principles including: intensity, attention to detail, focus, and a sense of urgency.

Bob Leavine is also the owner of WRL General Contractors, LTD, a 35-year-old business that continues to prosper and reach new heights. Leavine's skill and innovation, evident in his success in the business world, are proof of a competitive spirit, and a dedication to do whatever it takes to win.
Matt DiLiberto currently serves as the Chief Financial Officer of SL Green Realty Corp. (NYSE: SLG), an S&P 500 company and New York City's largest owner of commercial real estate, overseeing the finance, accounting, tax, investor relations and corporate capital markets functions of the organization.

WHAT NEXT?

If you found this content useful, there's a PDF version that you can download and forward on to friends or colleagues you think might also find it useful. If you have more questions about NASCAR sponsorship, or are looking to take the next step on your sponsorship journey, please reach out to us directly.