Anatomy of a NASCAR Sponsorship - FREE Guide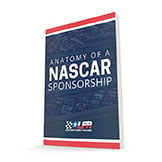 Sponsorship is a key to the success of most professional sports. However, it almost goes without saying that sponsorship is more important in motor racing than in almost any other sport. Principally, because sponsorship is the primary source of revenue that keeps the sport running. This free guide is the most comprehensive resource on NASCAR sponsorship that you can find anywhere online, for free. While certainly not all-inclusive, this guide will help you make sense of the modern NASCAR sponsorship landscape.
» Launch the Guide now!