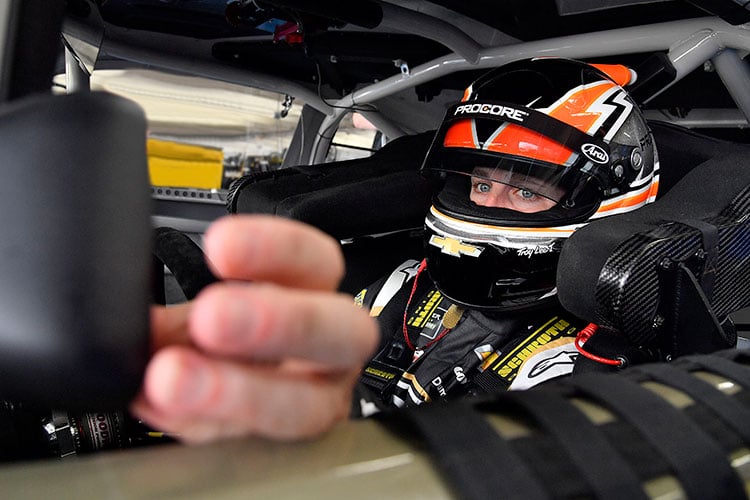 Looking Back
Reflecting back on this past year at Leavine Family Racing (LFR), there are many different memories that come to mind. We started the season off with veteran star driver Kasey Kahne behind the wheel and partner Procore in place to launch our team to a new level.
Kasey was able to deliver solid runs while piloting the No. 95 machine, the highlight of which was a 4th place finish at Daytona. Unfortunately, he was held out of the car for a number of races at the end of the season for health reasons. And ultimately decided to announce his retirement from the Monster Energy NASCAR Cup Series at the end of the 2018 season.
We were fortunate to secure another veteran driver in Regan Smith to fill in for Kasey and finish out the 2018 season. We also made numerous personnel changes during the season and - in a sport where consistency matters - we fought an uphill battle. Sometimes things don't always go as planned.
Looking Forward
In early October, LFR announced the team would field Toyota Camrys with support from Toyota Racing Development, establish an alliance with Joe Gibbs Racing, and place Matt DiBenedetto in the driver's seat for 2019. This move supports the goals of team ownership to be more competitive on the track.
With a year full of changes around the No. 95 LFR team on the track, the team was able to make positive strides in the area of sponsorship. Procore became a major partner of LFR and used the sponsorship to enhance customer relationships and drive revenue. You can read more about Procore's perspective on their investment in the team in a blog post they wrote for us. Dumont Jets joined the team as a partner and became a familiar name around the race team and in the NASCAR garage. The charter jet service used their association with LFR to introduce themselves, and the company, to potential users of their service. There's more information about how Dumont capitalized on the classic B2B sponsorship model in a blog post they wrote for us a few weeks ago.
The Sport, As a Whole, Continues to Evolve
2018 was an eventful year for the sport of NASCAR. Key stakeholders and partners made headlines throughout the season, some were positive news, others were not so great. While we said goodbye to drivers Kasey Kahne and Elliott Sadler and longtime sponsor Lowe's Home Improvement, we welcomed in many new faces as the youth movement continues. Ally Bank saw a great opportunity to enter the sport and use the platform to advance their messaging by partnering with the No. 48 team.
Here at LFR, we introduced a number of new corporate partners to the sport that had never been part of NASCAR. We are grateful for the opportunity to continue to work alongside these companies and to represent their brands and help each of them meet their objectives through partnerships with LFR.
We are thrilled to enter the 2019 season representing Toyota along with Matt DiBenedetto and Daytona 500 winning Crew Chief Mike Wheeler. With this increased investment in talent comes an expectation of increased performance on track. While we are very excited about our potential results next year, there is a focus on hard work and details in the present day. Each member of this organization will individually use their talents to strengthen the overall team – whether it be on the track or in the boardroom.
What Does the Future Hold?
The future of sponsorship in NASCAR is promising. As a league, NASCAR has brought in several new partners this past year adding to an already stout list of corporate sponsors. As the sport and culture evolve, this industry will need to change as well. Just as you don't see rotary phones or dial up internet much (if at all) these days, consumption of the sport is evolving. Fans want to consume the sport when they want, and how they want. We have seen this in the shift away from consuming the sport on television and radio to more consumption online, specifically on mobile devices. Race teams and tracks must develop creative ways to provide avenues for potential partners to reach consumers. In addition, we must all work together to help our partners (those invested in the sport) make the type of connections they are seeking to help grow their business so they see the real power of this sport.
A good example of this is the recent announcement of the eNASCAR Heat Pro League. Our sport has developed a platform to engage and become more relevant to younger generations. This is an exciting development for NASCAR. This gives teams the opportunity to have conversations with companies that traditionally have not been interested in motorsports simply because the demographic didn't align with their target customer. Through eSports we can now open a dialog with these companies, as the platform will reach a much younger and media savvy consumer. NASCAR as a league will benefit from this younger demographic growth as well as the teams, tracks and media.
The future is bright for NASCAR and while we must understand the future could look very different than the past, this can be a very good direction for our sport. Here at Leavine Family Racing we are very encouraged and excited about 2019 as we continue to progress towards becoming a more competitive race team on and off the track.